2016 Games
Whats up everybody and how you doing? I am back with another post for my computers and electronics blog, this time about new games from 2016 that I have not gotten a chance to play. I don't get to play new games very often as I am cheap as hell, but I recently started buying Steam keys online at http://www.canada.for-sale.com/steam-key which has tons of used steam keys for bundles and independent games. So I will be looking them religiously for the next few weeks until the winter sale starts up and I can start to get all these cool new games.
Doom
Everyone in the PC gaming scene knows and has played many hours of 'Doom'. Heck, I even have an emulated version for my Gameboy. The original 'Doom' was uncensored, intense shoot em up fun with an interesting horror element that took the gaming world by storm. That's why I am incredibly excited to try the newest instalment of the series, simply titled 'Doom'. The graphics look amazing, and the combat terrifying net powerful at the same time. I have yet top beat the least game from the series that came out as I cannot use my disc on my North American disk on my Asian console but it seems that is not a prerequisite for this game as it stands alone. The only issue I have with this game from what I have seen is that it may have been modernized too much, taking away the difficulty and the depth of the original games but I am none the less excited to play it.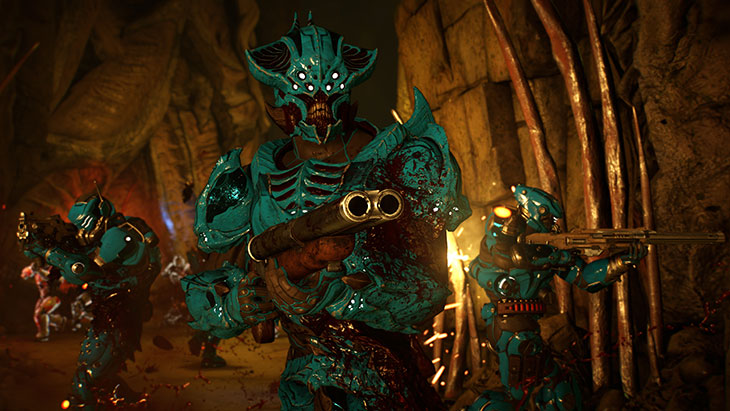 OverWatch
'Overwatch' is Blizzard's attempt at making a 'Team Fortress 2' clone and they surpassed all expectations. Currently one of the most played games on PC, all of the big Youtubers I watch are posting 'OverWatch' videos and it seems it will stay that way for a while. With 23 Hero characters currently to choose from and more coming every couple of months, there is a play style for everyone from archers to robot tanks. The game was released on both Playstation 4 and Xbox One as well as PC and has been making headway ever since, with players from all three consoles set to be able to play together by next year. Unfortunately the game is not sold on Steam but on its Overwatch website so fans looking to play with their Steam friends will be disappointed, but I don't think many people(other than me) are missing out on this game.
Hitman
'Hitman: Blood Money' was one of my favourite single player games on the Xbox 360. Then 'Hitman: Absolution' came out and I didn't know how to feel, the game was still incredibly fun but it didn't have the same feel to it. From what I see of 'Hitman' that feel is back. No more scoring systems but still interesting and challenging ways to kill your target. I don't like the way it was released, with one mission coming out a week and costing additional money for each mission. The price point is okay though, with various bundles including different missions for as low as $18 but for the prologue, the first season of missions and the bonus mission you're looking at over $80, which is crazy. Hopefully these will be put on sale soon and put into a bundle that has every mission.
Stardew Valley
'Stardew Valley' looks like the best farming game to come out since 'Harvest Moon; More friends from Mineral Town' and that has gotten me incredibly excited. An indie game that was released early this year, 'Stardew Valley' puts you on a farm recently inherited from a long lost relative. You are tasked with turning the overrun farm into a money making machine by any means necessary. You can plant crops, grow orchards, milk cows or collect eggs from chickens. Anything possible to do on a real farm you can do here, plus some. The nearby town has some rich history as well, with a large corporation recently moving in and putting a stop the the quaint lives of the citizens of 'Stardew Valley'. Forge relationships with the townsfolk, get married to one of the many potential love interests and even have children. The world is your oyster in this magnificent spiritual successors to one of my favourite series.
Firewatch
I don't have much time left but i would like to get a quick word in about 'Firewatch'. This is an indie game released only a few months ago but has gotten very big very fast. An amazing soundtrack and compelling story promise to make this game an amazing adventure, however the short play time doesn't seem quite worth it. Definitely a game to pick up on sale.
Well those are the game I really want to play from 2016, I hope you guys like the list and come back next week for part two of my
website building
post.